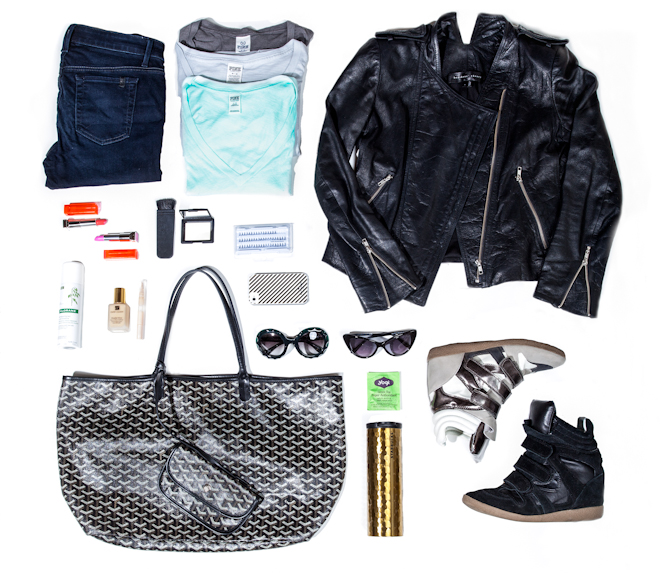 Joe's legging
jeans
, Victoria's Secret PINK
tees
, Theysken's Theory leather
jacket
, Maybelline Colorsensational Vivid
lipsticks
, NARS #21
brush
, NARS Albatross
highlighter
, individual false
lashes
, Klorane
dry shampoo
, Estee Lauder Double Wear
foundation
, Maybelline Dream Lumi
concealer
, Goyard tote, Kate Spade
iPhone case
, Kate Spade sunglasses, Tom Ford
sunglasses
, Yogi Super Anitoxident Green Tea, Starbucks mug, Target wedge
sneakers
, Steve Madden wedge
sneakers
Ahhh how I've missed this blog over the past month. I don't like to be gone for so long but sometimes I can't avoid it. You've probably noticed that my blog often battles my day job for my attention. In this case, I spent the past several weeks styling a TV show for HGTV which required pretty much all of my time. I hate to leave my blog hanging but I love the fact that you stick around even if I can't give you new posts every day. So thanks for your patience during the hiatus and I promise there's plenty of new inspiration to share, starting with this collection of things that got me through my time working on set. If you find yourself in need of some new staple items for those never ending packed days, I highly recommend each and every one of these items. Most of them speak for themselves, but I do have a few specific notes:
Joe's legging jeans - They're equal parts flattering, soft, and comfy so there's no restricted skinny jeans feeling. Maybelline Vivid lipsticks - They come in such an impressive range of high quality pop colors - I especially love Pink Pop and Shocking Coral. NARS Albatross highlighter + #21 brush - When you're putting in long hours, it's downright impossible to maintain a healthy glow without a little help, and this combo really does the trick. Lash extensions - Before starting the show I decided it was the perfect time to try lash extensions (I went to Lashfully). With the early wake-ups, it was so nice to not have to worry about sticking a mascara wand in my eye while I'm still half asleep. They looked glamorous but not too much for a regular day. I'm not sure I will become a devotee since it can get pricey and I still have yet to try the lash lengthening serums. I'll keep you posted. Wedge sneakers - Even with the wedge, I was surprised to find they are just as comfy as regular sneakers and add an automatic touch of chicness. I'm sold on these altogether.
One last thing before we go back to business as usual. I'm selling my Louis Vuitton Speedy 35! LV just raised the prices on all their classic styles (those rascals), so if you've been thinking of adding this one to your collection, it's the perfect opportunity. I still love it - I just want another LV bag in a similar style and need to prioritize. :) You can find all the details here.