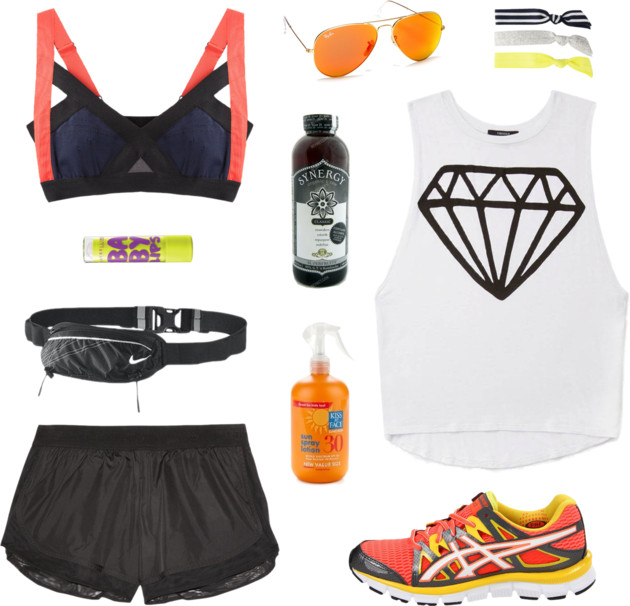 VPL bra, Ray-Ban sunglasses, Emi-Jay for Splendid hair ties, Synergy Kombucha, Forever21 Tank, Maybelline Baby Lips lip balm, Nike waistpack, Kiss My Face sunscreen spray, Stella McCartney for Adidas shorts, Asics sneakers
Morning hikes are my new jam. I'll admit, I used to be anything but a hike person. I don't have a good excuse, I just never felt like I could take the time, didn't know where to go, and never really had the desire. But lately I've been up at at em at 6:30 every morning to participate in a little fitness effort called Fit 40 (#fit40), organized by my friend, neighbor, and insanely inspiring health guru Caley. It's 40 hikes in 40 days with a group of awesome people and dogs. Anyone is welcome, and we're hiking all the steep trails on the west side! Man does it hurt, but it's the best possible way to start the day. New friends, a great workout, and stunning views. Every night I lay out my hiking outfit so I can get dressed while I'm still trying to wake up without thinking about it. While it's not the most obvious time to think about fashion, I can't help myself. I always tend to have some variation of black, white, a certain pop of color, and a fun detail of some sort - whether it's a striped tank or graphic tee. It makes for fun and easy styling when you have strength, movement, and empowerment in mind!
Follow Caley on Instagram at @caleyalyssa for daily wellness inspiration!
{}