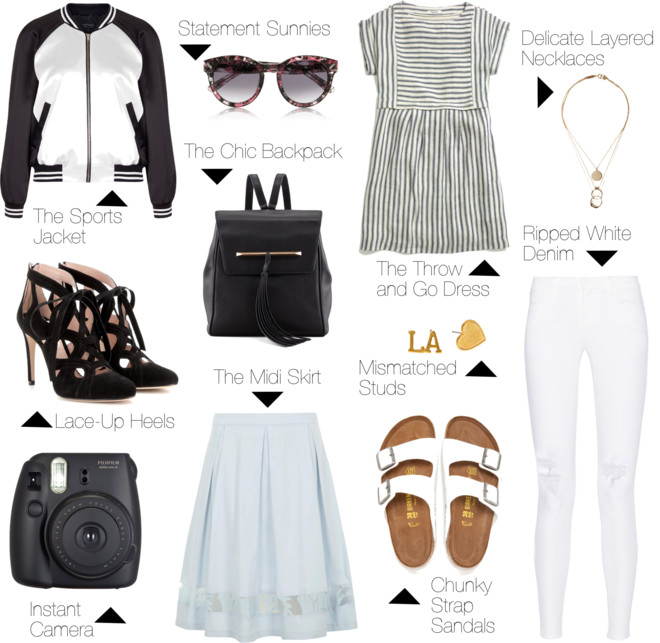 Topshop satin bomber / Kenzo sunglasses / Madewell dress / Margiela multi-strand necklace / Miu Miu heels / B Brian Atwood backpack / Max & Chloe studs / J Brand jeans / Fujifilm instant camera / Dorothy Perkins midi skirt / Birkenstock sandals
Although the seasons seem to blend here in Los Angeles, the 10 degree difference from winter to spring are enough to make a wardrobe update feel totally necessary.  Bid farewell to your winter essentials to make room for these key spring pieces. Trust me, you won't stop wearing them til it's time for knee-high boots again...
The Sports Jacket - If you're looking for an easy transition from your beloved winter varsity jacket, the search is over. This lightweight sports bomber pairs perfectly with jeans and can also add a nice twist to girly skirts.
Statement Sunnies - In the spring and summer, sunglasses are a daily necessity and these days they're becoming more of an expression of your style. So pick your favorite statement pair and rock em!
The Throw and Go Dress - Lazy girls, your time is now.  Stock up on these easygoing dresses that can be thrown on in under five seconds. Stick to neutrals and simple patterns that are easy to accessorize differently enough so that you don't feel like you're wearing the same piece each time.
Delicate Layered Necklaces - Minimalists and maximalists, unite! Layering pretty, delicate necklaces will make lighter accessorizers feel daring while allowing the lavish ladies to still honor their edge.
Lace-Up Heels - I love a good juxtaposition piece.  These vampy heels are exactly what you need to pair with boyfriend jeans to give a feminine twist during the day and with a LBD to take on the nighttime.  There has never been a smoother transition.
The Chic Backpack - If you're an avid festival goer, a chic backpack will be your best friend this spring.  The hands-free bag will hold all your belongings with easy while letting you throw your hands up in the air (even if Lorde is kind of over it). 
Mismatched Studs - Update the simple stud by mixing them up! You can buy them in pre-mismatched pairs or mix up your own for a fresh take on what's already in your jewelry box.
Ripped White Denim - There's something so fresh yet perfectly edgy about some ripped white jeans. Whether they're skinny or boyfriend, just add a soft tee, and lace-up sandals for a casual look, or amp em up with black pumps and a leather jacket for evening.
The Midi Skirt - This dad-approved length is about to take over the next few months. Make sure to grab some in pretty pastels and also a great, sleek black one (for obvious reasons).  Pair it with your new lace-up heels and a boxy crop top for great girly yet edgy look.
Chunky Strap Sandals - Now, before you write these sandals off as a mistake you made in the nineties, let's talk about it. You know your feet are hurting from too many nights in heels, you know you want a shoe you can slip on for a quick grocery run, you know you kinda think they're cool again (even if you won't admit it aloud).  So come on, give your feet a break. Make sure to wear these with relaxed yet elevated outfit though so you don't look like a bad fashion memory.
Instant Camera - Printed photos are the new Instagram. It's fun to take a break from the digital age and post little memories around your place, share them with friends, etc.
//